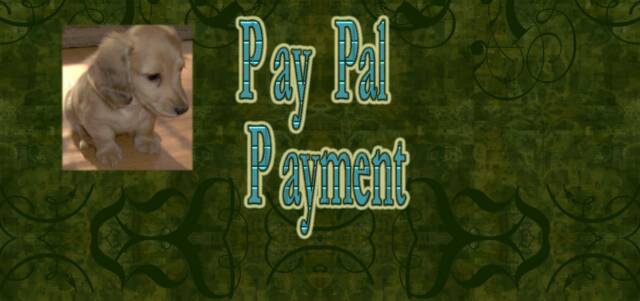 Payment PayPal (for a deposit)

(Buyer will have to add 3 % on the deposit if using Pay Pal.

All deposits are contracted, ensuring a safe, fair, transaction between buyer and seller.

Deposits can be made via check if puppies are less than 2 weeks old. Afterwards, all payments must be made by cash, certified check or US Postal money order. No exceptions. All initial deposits and subsequent deposits are NON Refundable. Breeder has the right to refuse deposits and adoption for ANY reason. In such case, deposit (s) would be refunded.

A $200.00 Non refundable deposit is required on all reservations.

If shipping is needed, full payment must be received two weeks prior when puppy is approximately  6 weeks old.

If buyer has not agreed to a shipping date and destination by the time the puppy turns 8 weeks old, and or there is no contact from buyer (either by e- mail, phone or mail). The puppy will be made available for sale and all but the 1/2  balance deposit will be refunded to buyer by check and mailed out on the next business day.

             Payment Options

We accept payments by

Good Old Cash

Money Order

Check (on deposits only)

Pay Pal Payments (Recommend)

        Purchase agreement

When a buyer makes a deposit or pays for a puppy in full they accept the teams of this agreement.

When you click on  Buy Now

it will take you to the Pay Pal Web Site

were you can use your debit card to put a deposit on your puppy.